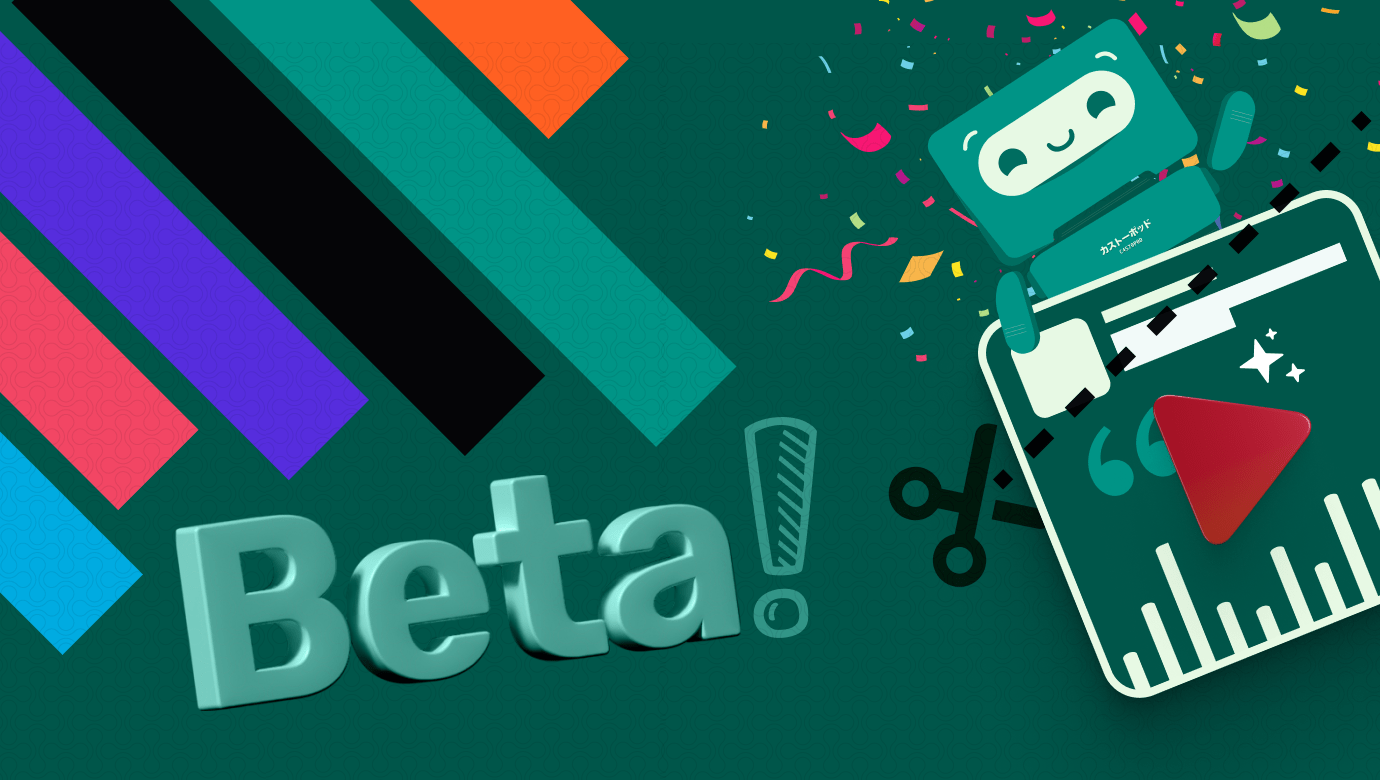 🎉 Castopod v1.0 beta is here!
Castopod has entered the beta stage with some exciting new features: redesigned UI and UX, color themes, video clips generation and PWA support.
TL;DR
Castopod is out of the alpha phase, welcoming you to try out the beta!
New features, and a redesigned UI:

✨ New look and feel for admin and podcast pages
🎨 6 Color themes to customize your podcast
📽️ Video Clips to share on any social media
📥 PWA: install your podcast as a full fledged app

If you'd like to help, go to castopod.org and share the news!
---
We are proud to announce the release of the first beta version, bringing an end to the alpha stage.
To mark the occasion, we've also launched a brand new website for Castopod: https://castopod.org 🚀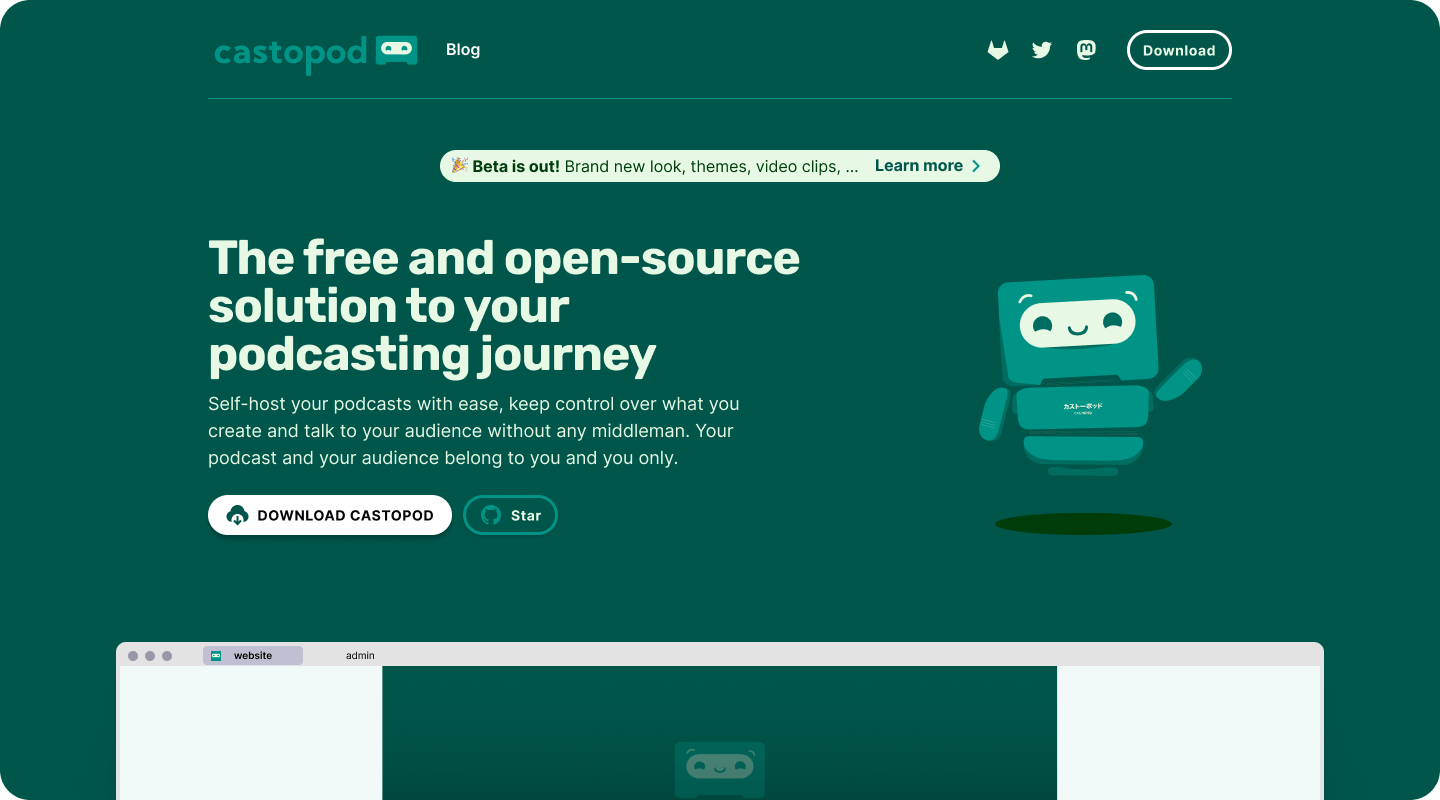 Before going any further, and for those of you who don't know what Castopod is yet, here is a non-exhaustive list of features to get you updated:
It's free & open-source (AGPL v3 License)
Member of the fediverse, a decentralized social network
Multi-tenant / Multi-user: host as many podcasts as you want
Podcast import: move your existing podcast to Castopod
Publish and broadcast everywhere with RSS: Apple Podcasts, Spotify, Google Podcasts, Deezer, Podcast Addict, Podfriend, …
Built-in analytics: GDPR / CCPA compliant, IABv2 audience measurement
Embeddable audio player: embed your episodes on any website
Podcasting 2.0 features: lock, transcripts & chapters, location, persons, soundbites
Monetization: funding links, listen-to-click ads, WebMonetization and value4value
And much more…
The road so far
The alpha stage taught us a great deal. With the help of early adopters, we've gathered many experiences, each one giving us more insight.
During that stage, we focused on kickstarting the platform by building the hosting, analytics and social features. And actually, we have achieved more than we could have ever hoped for, pushed by awesome open communities, from the fediverse to the Podcasting 2.0 movement.
Castopod aims to provide podcasters with an open & sustainable alternative to sharing their creations.
The beta release is a huge milestone in this matter, and it comes with its lot of exciting features!
✨ A new look for a better experience
First off, Castopod's interfaces were redesigned - from scratch - with a more focused user journey in mind: pages are easier to digest with less cluttering and better logic.
The podcast website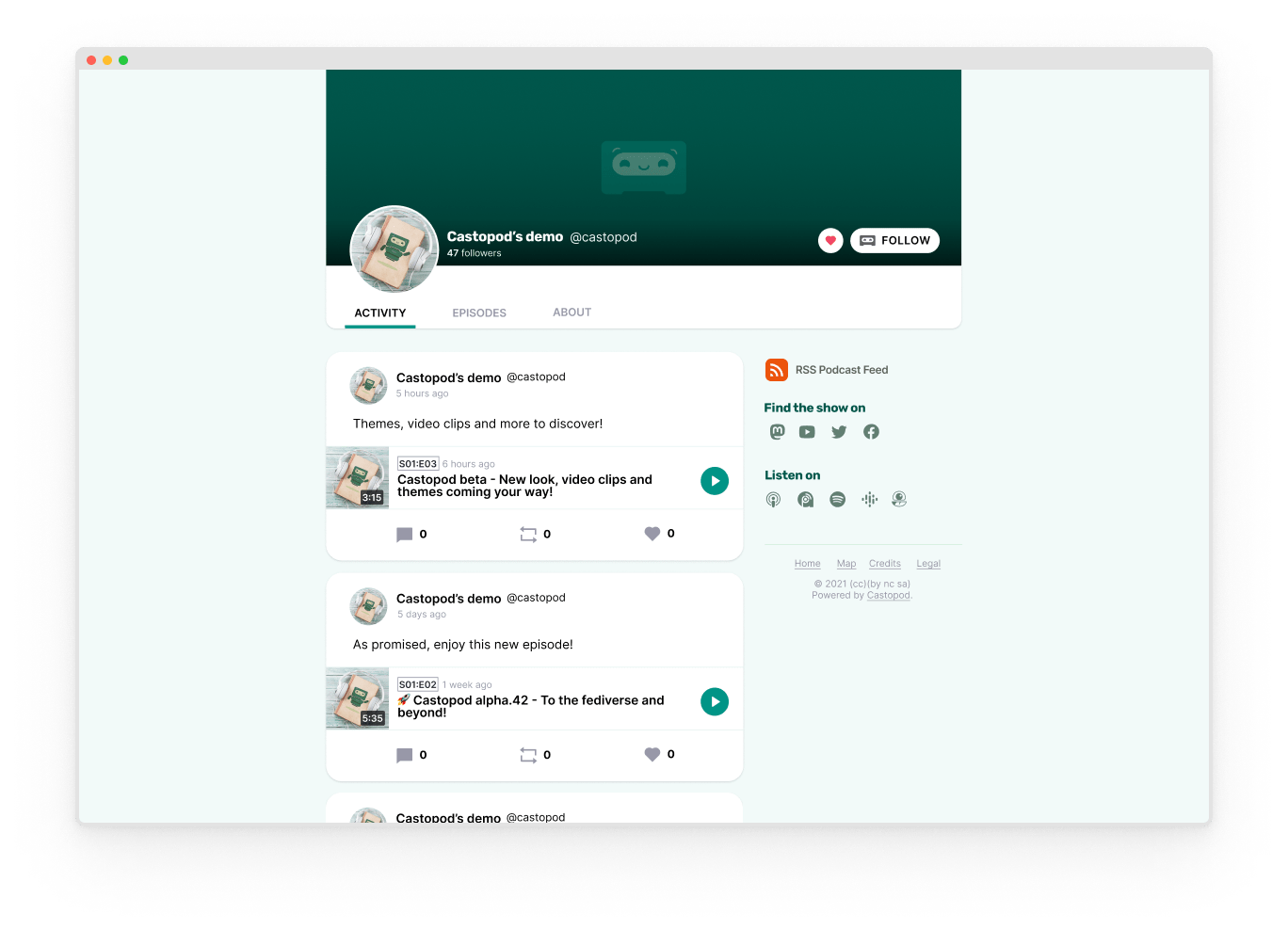 👉 The sides have been cleared out to bring focus on the main content of the podcast page and make the navigation more accessible.
👉 The native player has been swapped with a custom one in order to create some breathing room and provide new options like tweaking the playback speed.
The admin area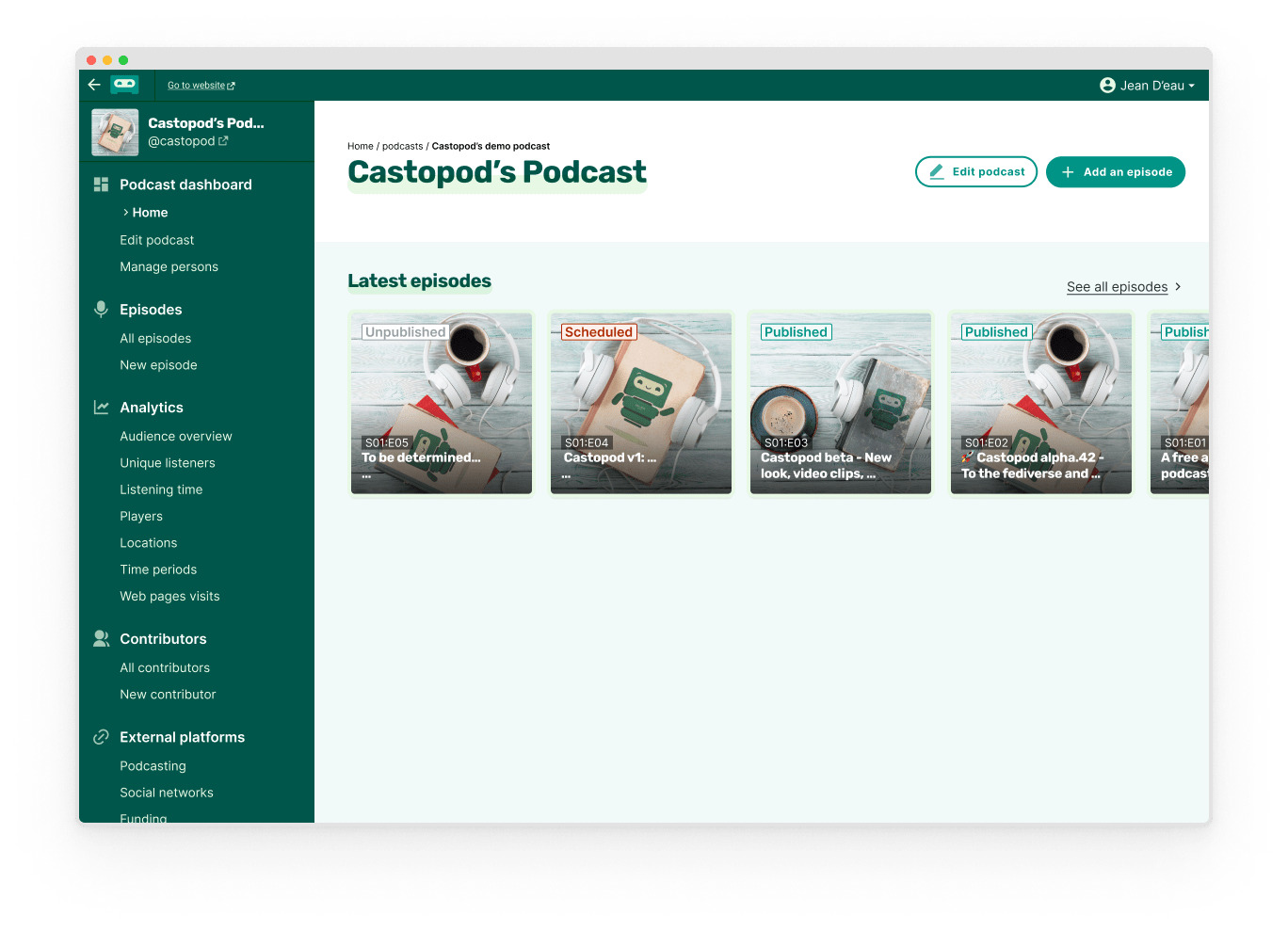 👉 The admin has been rebuilt to focus the attention where it matters. This was achieved by creating a lighter main section compared to the darker surrounding navigation.
👉 The user dropdown has been moved to a top navigation bar that is available on every page.
🎨 Customize your branding with color themes!
Change the look and feel of your pages by selecting a color theme.
You may choose between 6 colors with cool sounding names 😎: Pine, Crimson, Jacaranda, Amber, Lake, and Onyx.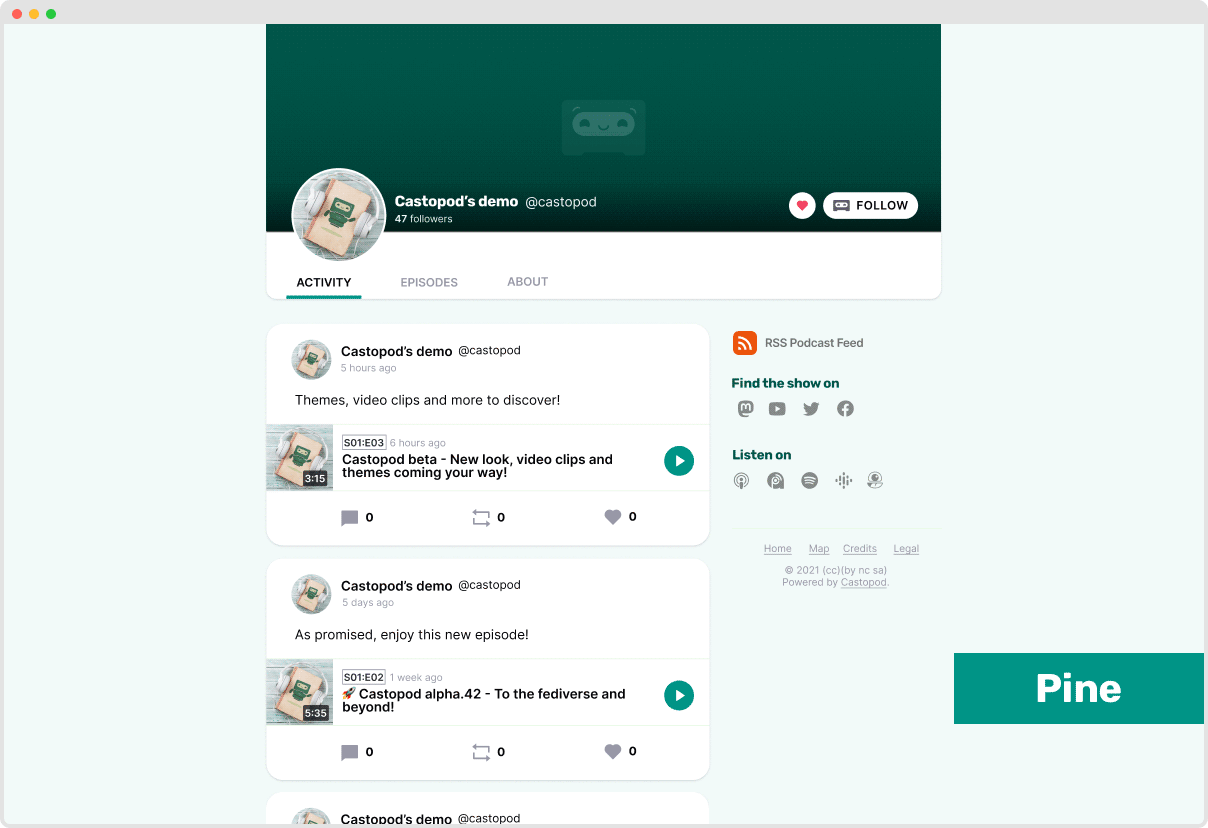 Pick the color that better suits your podcast!
📽️ Promote your podcast with Video Clips!
With today's time and age, your audience's scattered attention requires you to constantly produce more valuable content, faster.
You worry about producing great content, Castopod worries about producing it faster for you!
👉 Generate Video Clips with ease: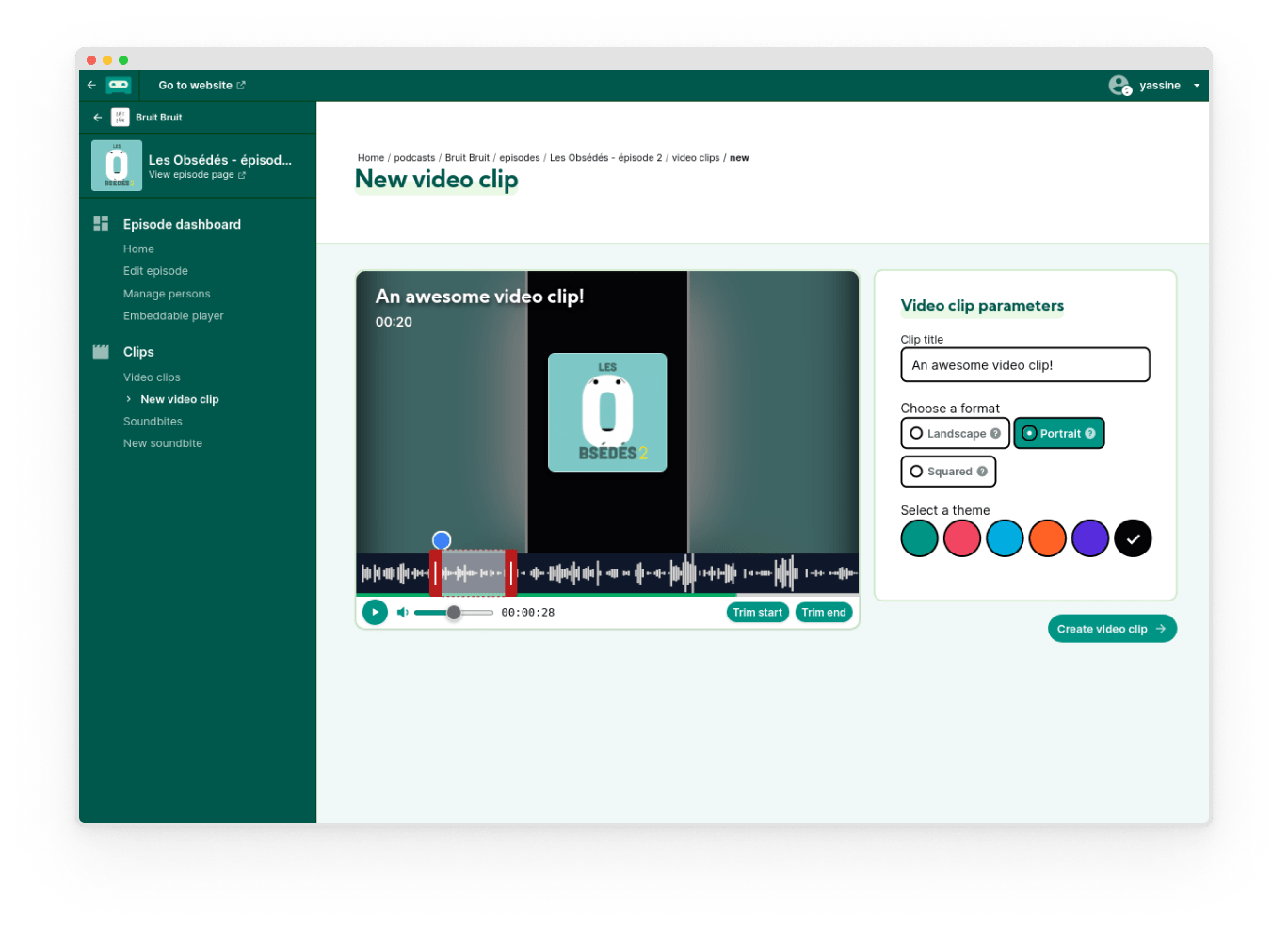 Upload a subtitle file (.srt);
Grab a sequence you want to promote;
Select a video format: landscape, portrait or squared;
Select a theme;
Submit!
Wait for your video to be automatically generated (using the magical FFmpeg 🪄).
You can then share it with the world on any social media platform!
Oh, and don't forget to tag us when you do so!
📥 Install your podcast as an app!
One of the nice-to-haves when managing your Podcast's website is the ability to install it as an independent app on your smartphone.
This is possible with Castopod, and you don't have to do a thing. All your podcasts are independently configured as Progressive Web Apps (PWA).
This allows your followers to add your podcast on their home screen, access it with a tap and listen to your latest episodes.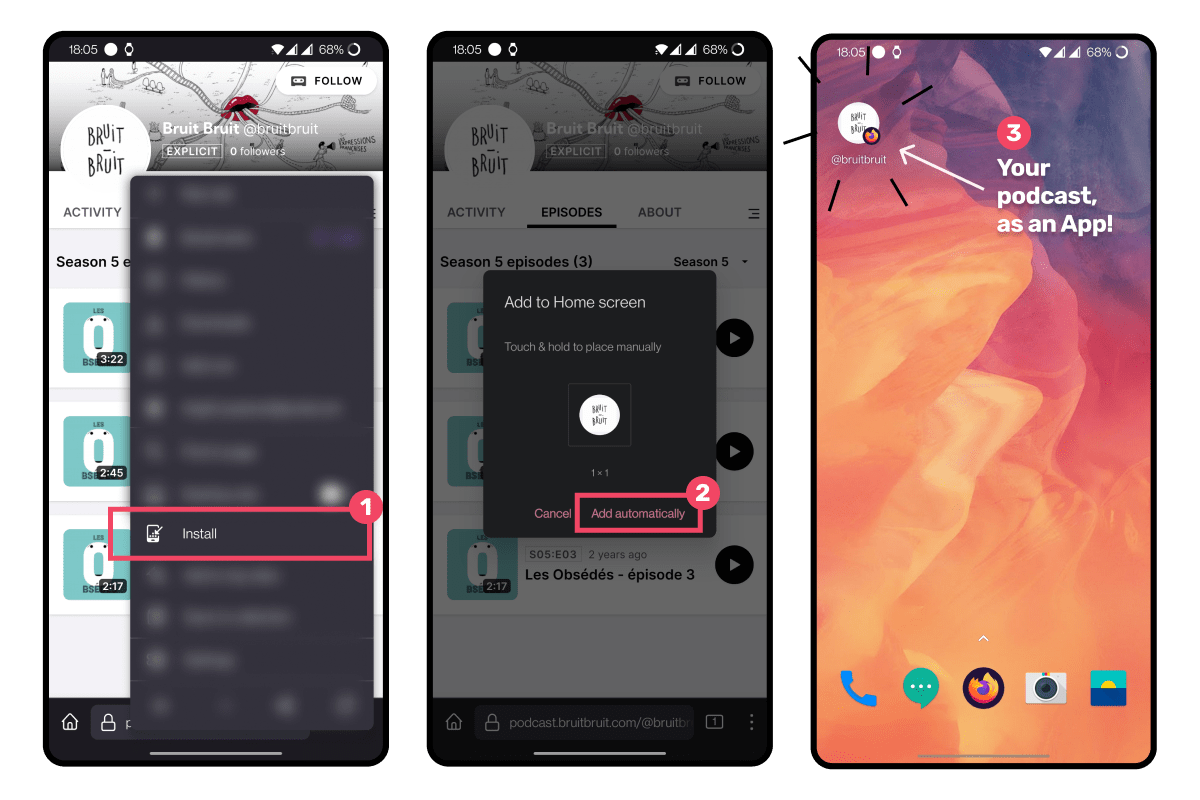 Here's a quick tutorial: go to your podcast page using your favourite mobile browser › tap on the options menu (⋮) › Install › Add to home screen.
That's it, they now have you on speed dial! ☎️
What to expect next?
Now that the beta is out, we'll be focusing on releasing Castopod v1.0 by:
implementing the last few, highly expected features
fixing bugs and writing documentation
accompanying newcomers into getting their own Castopod instance
So, grab your copy of Castopod, try it out, and let us know! We need your feedback
If you have any issue, go to our Discord server.
If you want us to host and set up Castopod for you, contact Ad Aures.
That being said… Go Podcasting! 🚀
---